ABOUT US
The Dieter Schwarz Foundation ranks among the large German foundations; it becomes active where government bodies are not, or not sufficiently, able to meet the needs of the economy and society.
"Promote education, share knowledge, venture future" is the guiding principle of the Foundation, which supports with its commitment today what makes tomorrow's society strong: a wide range of educational opportunities targeting people at different stages of their lives.
WHO WE ARE
We are a non-profit charitable foundation of the German entrepreneur Dieter Schwarz. Based in Heilbronn, we have been active in the region and far beyond since 1999.
WHAT WE WORK ON
Our aim is to identify potential; on this basis, we develop visions that we implement in a sustainable way. We promote education and science with a focus on lifelong learning by providing the necessary funds, contributing our expertise and realising our projects in a targeted and forward-thinking manner in collaboration with our partners.
WHO WE PROMOTE
We support various facilities, institutions, non-profit-making limited liability companies and associations addressing our two key areas: education and science.

What is more, our foundation is dedicated to supporting schools, schools competitions, academies for continuing education, start-up activities as well as research institutions, conferences and events in the fields of big data and life sciences.
OUR HISTORY
Since its establishment, the Dieter Schwarz Foundation has to date supported almost 700 institutions and initiatives in the fields of education and science. It laid the foundations for and initiated a wide variety of educational institutions, which are fully funded by the foundation. The financial support of third-party initiatives is another objective of our foundation.
18.11.1999
Establishment
On 18 November 1999, the Dieter Schwarz Foundation is established as a non-profit foundation. Dr. Erhard Klotz acts as the Founding Director until he retires from the foundation in 2015. Today, the foundation represents the principles of the "honourable merchant": appreciation of other people, down-to-earth mentality, modesty, unassuming appearance, economically efficient activity and commitment to society. The foundation starts out with endowed professorships.
21.08.2001
Akademie für Innovative Bildung und Management
The Akademie für Kommunikation und Information (Academy for Communications and Information), later renamed Akademie für Innovative Bildung und Management (Academy for Innovative Education and Management, aim), opens its doors on 21 August 2001. A non-profit institution for continuing education, the aim has received the mission from its members to strengthen education, especially in the fields of nursery, kindergarten and school. It receives financial support from the Dieter Schwarz Foundation, which allows the institution to offer participants most of its qualification programmes free of charge.
29.11.2004
German Graduate School of Management and Law
The year 2004 marks the start of the creation of heilbronn business school, which opens its doors in 2005 and is later renamed German Graduate School of Management and Law (GGS). The innovative business school specialising in management and law educates future managers and business leaders. Its part-time master's degree programmes for working professionals are characterised by individual support and internationally renowned lecturers. In the field of executive education, GGS offers solution-oriented seminars.
12.11.2009
experimenta
In 2006, the Dieter Schwarz Foundation commits itself to establishing a planned science centre in Heilbronn with the aim to inspire visitors to experience science and technology at first hand. Initially, only the basic equipment with exhibits is sponsored, followed by the foundation of experimenta gGmbH in 2007 in collaboration with the Chamber of Industry and Commerce and the City of Heilbronn. After a planning phase of three years, which involves the intensive redesign of the Hagenbucher warehouse situated on the Neckarinsel, the experimenta opens its doors on 12 November 2009.
30.09.2011
Bildungscampus, Construction Phase I
After the foundation takes the decision to fund a branch of Berufsakademie Mosbach in Heilbronn (later Duale Hochschule Baden-Württemberg, DHBW (Baden-Wuerttemberg Cooperative State University), whose study programmes start in 2010, the first sod for construction phase I of the Bildungscampus is turned in February 2010. Covering a total of 11,800 square metres of usable space, the Bildungscampus is opened for DHBW Heilbronn, aim and GGS on 30 September 2011. Shortly thereafter, in March 2012, the decision to support DHBW's expansion and set up individual DHBW master's degree programmes is adopted.
March 2012
Expansion of experimenta
With the experimenta programmes being a great success, the Dieter Schwarz Foundation takes the decision in March 2012 to extend the science centre built two years ago, which is followed by a national architectural competition for its comprehensive expansion. The winner of the competition is the renowned architecture practice Sauerbruch Hutton based in Berlin.
30.09.2015
Bildungscampus, Construction Phase II
In October 2012, the course is set for the expansion of the Bildungscampus in two construction phases. One year later, the construction work can begin. On 1 July 2014, the DHBW Mosbach branch becomes an independent location: DHBW Heilbronn, the youngest member under the umbrella of DHBW locations. In October 2014, the Center for Advanced Studies (CAS), a DHBW institution focusing on master's degree programmes, opens its doors. On 30 September 2015, Bildungscampus II is inaugurated with two new buildings. The institutions now have a new assembly hall (Aula) for events, and the aim gets a new building to accommodate the growing numbers of participants on Bildungscampus Ost (eastern part of the campus). The previous aim building will from then on be used by DHBW.
25.10.2016
Bildungscampus, Construction Phase III
On 25 October 2016, the third construction phase of the Bildungscampus is initiated, accommodating a building for the business-administration study programmes of Heilbronn University of Applied Sciences (HNN) and a building for the Center for Advanced Studies (CAS). One year later, in May 2017, the Campus Bridge is completed, which connects the buildings of the first construction phase (GGS, DHBW, Mensa (refectory)) on the east side with the buildings of the second and third construction phases (aim, Aula, CAS, HHN) on the west side. In June 2017, the Dieter Schwarz Foundation publishes its decision on the establishment of a location of the Technical University of Munich (TUM) and its TUM School of Management in Heilbronn. The first two study programmes start just a year later, in October 2018.
Januar 2018
Josef-Schwarz-Schule
Josef-Schwarz-Schule, named after the father of Dieter Schwarz, is added to the funding portfolio at the beginning of 2018. Josef-Schwarz-Schule is a bilingual, international all-day school. The alternative independent school operates on a non-profit basis; it received state recognition in 2015 and is based on the Baden-Württemberg curriculum, which is complemented by international elements. Josef-Schwarz-Schule was established by the educational organisation Phorms Education based in Berlin, which operates bilingual private schools and nurseries throughout Germany.
September 2018
Campus Founders
On 25 September 2018, the start-up centre Campus Founders gGmbH is established by the Dieter Schwarz Foundation. Campus Founders sees itself as a platform for university-related start-up support and growth assistance for spin-off foundations. Its primary focus is to inspire pupils and students in terms of entrepreneurial thinking and spark their interest in founding their own start-ups. The programme ranges from cross-university teaching and training opportunities to coaching measures for founders to the provision of premises that allow them to test their business ideas. On top of that, sustainable business approaches benefit from financial support.
March 2019
Reopening of experimenta
After laying the foundation stone for its extension in June 2016, which paves the way for a science centre with national influence, the experimenta celebrates its grand reopening three years later, at the end of March 2019. In addition to the reconstructed existing building, where a variety of courses will be offered for school classes and kindergarten groups in the future, the science centre now features a spectacular new building for four exhibition worlds and creative studios. One highlight of the new experimenta is its Science Dome, featuring a 700 square metre 360-degree dome screen as well as a rotating auditorium.
September 2019
Erzieherakademie Heilbronn
In autumn 2019, a modern, practical and international institution starts its training programme: Erzieherakademie Heilbronn (Academy for Early Childhood Educators). With the establishment of this professional school for social education, aim and Phorms Education are creating a new programme for future early childhood educators. What makes the academy for early childhood educators special is its focus on practical training (praxisintegrierte Ausbildung, PIA), which means that the future early childhood educators both attend professional school (60%) and work at a daycare centre (40%).
October 2019
Inauguration of Bildungscampus Nord
In October 2019, Bildungscampus Nord (northern part of the campus), which includes two new buildings for Heilbronn University of Applied Sciences (HNN), a joint library for all higher education institutions and a new subterranean refectory (Mensa), is inaugurated in a solemn ceremony.
GET TO KNOW US
Managed by Silke Lohmiller and Prof. Reinhold R. Geilsdörfer, the Dieter Schwarz Foundation is made up of a small team of dedicated employees.
Management

Shareholders

Contact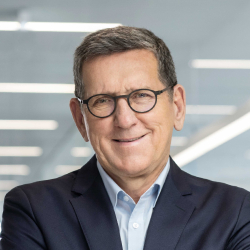 Prof. Reinhold R. Geilsdörfer
since 2016: Managing Director
of the Dieter Schwarz Foundation
for Science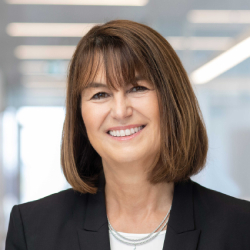 Silke Lohmiller
since 2015: Managing Director
of the Dieter Schwarz Foundation
for Education